Turn-Key, Stress-Free Virtual Meetings
Web-based meetings offer huge cost and time savings and are an essential part of keeping remote teams connected. Barnett has responded to this need by providing clients with web hosting solutions that are seamless, ensure interactivity, and maximize the use of the web platform to create a memorable and outcomes-focused session. Core services that Barnett offers include: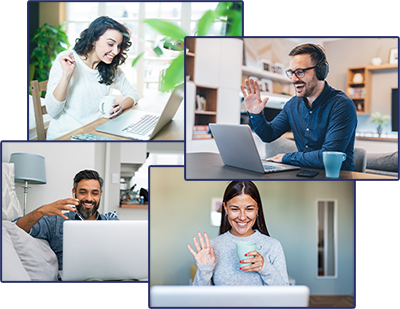 ---
Announcements and Communications:
From team meetings to enterprise training deployment, a rock-solid plan and rollout is essential for meeting success. Barnett drives the meeting process from start to finish.
Registration and Scheduling:
Includes meeting set-up, website development and branding as well as management of promotional activities − invitations, communications, preassessments, and confirmations.
Tools and Checklists:
Barnett's tools, checklists, SOPs, and learning best practices guarantees memorable and outcome-focused meetings.
Engagement and Interactive Activities:
WebEx Training Center harnesses built-in unique features that make the user experience an uber-engaging and easy logistical experience.
Hosting and Technical Support:
Barnett utilizes WebEx Training Center as our foundation and creates a seamless, "branded to your company" experience.
Content Development:
Leverage Barnett's deep expertise in clinical drug development content and customization, including technical and leadership training.
Trainer Orientation and Prep Services:
Barnett delivers subject matter expert orientations and speaker training, including experience developing interactive components and audience polling.
Pre and Live Meeting Support:
Includes automated reminders, login support, meeting hosting, facilitation and moderation and recording.
Post-Meeting Support:
Barnett does it all − assessments, polling, reporting, evaluations, certificates, recordings, MP4s, SCORM, and file output services.
Logistical Components:
Barnett utilizes the WebEx "training center" product as our foundation and creates a seamless, "branded to your company" experience for your attendees. All that is required of attendees is a computer, high speed internet connection and a telephone line. WebEx has many unique features built in that make the user-experience a very easy logistical experience.
Getting Started:
To get started, we would suggest starting with a demonstration of our services and allow us to walk you through the experience that your audience would have during a virtual meeting. From there, we can further custom tailor the experience, and create a "mock" session for your planning group.
For more information, please contact:
Naila Ganatra
General Manager
Barnett International
a division of Cambridge Healthtech Institute
ph: (215) 413-2471
email: nganatra@barnettinternational.com